Solar Panel Cleaning For Superior Solar Energy Collection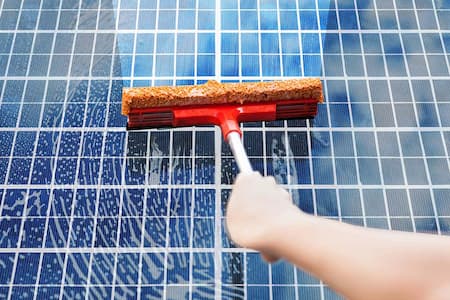 If you're a Lynchburg property owner with a solar panel array, then we know that energy efficiency is important to you! If your panels need a solar panel cleaning service, then the pros at Fitzy's Maintenance Solutions are on your side. Grime and debris buildup often hinder panels from generating electricity at their maximum efficiency, and that's why solar panel cleaning services are so crucial. Fortunately, when it comes to pressure washing for Lynchburg, we're also the #1 choice for solar panel cleaning services!
PV Panel Washing
Similar to your roof, solar panels are constantly exposed to the elements. From animal droppings to dirt, to pollen, and more, your panels are constantly being bombarded with debris, and while they might get occasionally rinsed off by the rain, the stickier substances won't come off as easily. What's worse, is that when your panels become covered in enough of this gunk and grime, it'll become harder for them to generate electricity. If you've recently noticed that their output is declining in efficiency, maybe you should ask yourself when the last time was that they were cleaned. If it's been a while, maybe we can help you out!
A professional solar panel cleaning can be a big help to ensure that you get the most out of your solar panel array. At Fitzy's Maintenance Solutions, we want you to maximize your energy savings and enjoy the benefits that your solar panels have brought you. Cleaning the panels also helps prevent bigger issues down the line by letting us clean excess debris and giving us a chance to look for other potential hazards.
Check Out All Our Pressure Washing Services
At Fitzy's Maintenance Solutions, we're proud to assist Lynchburg residents with all of our amazing pressure washing services. We do so much more than solar panel cleaning! The amazing soft wash method that we use in our solar panel cleaning service is optimal for cleaning all kinds of glass exteriors. If you have weathered and grimy windows, then give us a call and ask about our amazing window cleaning services. Our window cleaning cuts through grime fast, simply by using soft washing. Consider booking a window cleaning along with your next solar panel cleaning.
Make the most out of your Lynchburg home's solar array, and order a solar panel cleaning from the experts at Fitzy's Maintenance Solutions.
Give Us a Call for Expert Pressure Washing in Lynchburg & Surrounding Areas Today!