Building Washing For Business Property Maintenance Made Easy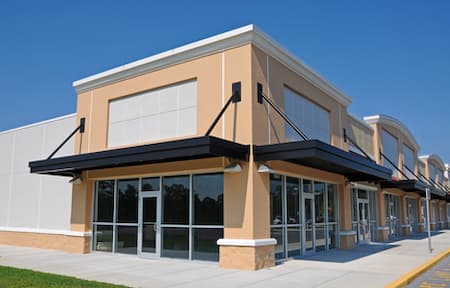 The pros at Fitzy's Maintenance Solutions offer the best in building washing services for commercial property owners in and around the Lynchburg area. We know that your building's exterior is the first thing that potential customers see when they pass by your business, and that's why it's so important for you to have clean exteriors, no matter what time of the year it is.
At Fitzy's Maintenance Solutions, we strive to provide Lynchburg property owners with professional-grade pressure washing services, and that includes top-notch building washing. Give us a call today to get started on your next exterior cleaning project.
Exterior Business Cleaning
Our building washing process is very similar to our other pressure washing services. We use soft wash cleaning methods to get rid of harsh organisms and tough, stuck-on stains, including:
Algae
Mildew
Dirt
Graffiti
... And more!
For the best results, consider scheduling routine pressure washing services for your commercial exteriors. If you're unsure of how often to schedule these cleaning services, consider factors such as your location or the local climate. For example, if your building is located by a dirt road, then it's more prone to dirt and mud buildup, so it will need to be cleaned more often. The same goes for properties that are surrounded by trees. A building that is pressure washed by a professional on a routine schedule is less likely to experience damages and will need fewer repairs. Your wallet will certainly thank you!
Take Advantage Of All Our Pressure Washing Services
At Fitzy's Maintenance Solutions, we're prepared to take on any type of pressure washing project that you may have. Our exterior cleaning services are specially-catered to suit all of your commercial property's surfaces, from your roof to your windows to your parking lot and more! We want your buildings to look as good as new, and that's why we pride ourselves in providing Lynchburg business owners with the best building washing services around.
Check out all of our amazing commercial pressure washing services, which include graffiti removal, sidewalk cleaning, gum removal, and more!
If you want your building exterior to shine brighter than ever, call us today and we'll be happy to give you an initial estimate for your pressure washing project. We offer the best building washing in the Lynchburg area, and we strive to make sure that your buildings always look their best, no matter how big or small your building washing project may be. Give us a call today for a free quote and consultation on your next building washing service!
Give Us a Call for Expert Pressure Washing in Lynchburg & Surrounding Areas Today!