Driveway Washing Can Wash Away Ground-In Stains And Dirt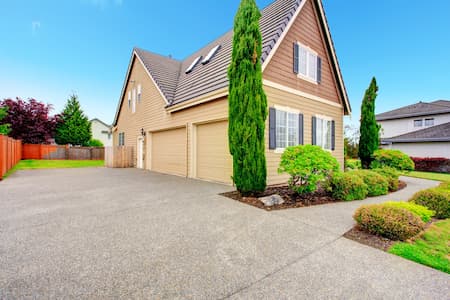 If your Lynchburg home looks great but the driveway is covered in stains and grime, then it's time to call on the pressure washing team at Fitzy's Maintenance Solutions for a professional driveway washing service! At Fitzy's Maintenance Solutions, we're the top choice in Lynchburg for pressure washing services, and that's why locals pick us for all of their exterior cleaning needs, including driveway washing and other concrete cleaning tasks.
From creeping organisms to dirt buildup, the driveway washing pros at Fitzy's Maintenance Solutions can remove any unwanted grime from your concrete surfaces. Our skilled driveway washing technicians use only the best pressure washing tools and cleaning products to ensure that your exterior surfaces are clean, safe, and healthy by the time we're done with them.
At 144 Riverbend RF, we've worked hard to provide Lynchburg residents with personalized and relationship-based services for all of the years that we've been in business. Whether you live in Salem, Moneta, or any of the surrounding areas, you can count on our team of experienced pressure washing pros to treat your home with the same care that we'd treat our own. Our priority is customer service, and when you hire us for a driveway washing job, you'll get the best results in town!
Concrete Surface Cleaning To Blast Away Stubborn Stains
Brilliant outdoor surfaces are just a phone call away when you trust Fitzy's Maintenance Solutions for your pressure washing needs. If slip hazards, allergens, and grimy contaminants are becoming a problem on your concrete surfaces, then trust our pressure-washing technicians to remove them thoroughly and safely. Whether you require a sidewalk cleaning or deck cleaning service, we've got the skills and the tools to meet all of your concrete cleaning desires!
Call on the pros at Fitzy's Maintenance Solutions for a free estimate, and we can help you get started on your next driveway washing service in Lynchburg.
Exterior Concrete Cleaning To Make Your Property's Exteriors Look Great
When it comes to driveway washing and other pressure washing services in Lynchburg, don't settle for less! When you call on Fitzy's Maintenance Solutions for a pressure washing service, you'll always get professional results.
Our mission is to build lasting relationships by providing friendly and dependable customer service while maintaining the highest level of quality. If you're ready to transform the look of your Lynchburg area home, call our pressure washing pros today to request one of our many amazing residential or commercial pressure washing services.
Give Us a Call for Expert Pressure Washing in Lynchburg & Surrounding Areas Today!